Health
YOGA
If you want you can take part in one and a half hours of Yoga:
I learned at Yoga-Vidya and instruct the Rishikesh-sequence.
We can have relaxed or demanding lessons, according to Your wishes.
Price: € 3-5
 GREEN SMOOTHIES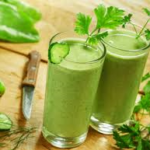 … exist of 50% of fresh fruit, 50% of green leaves and some water. They are mixed in a barman to a tasty and vital drink. Green leaves have great health advantages.
I prepare them for you freshly. If you want, you can also collect the greens by yourself . Just bring them, I'll do the rest.
Price: 2.50€
