Health
YOGA
If you want you can take part in one and a half hours of Yoga:
I learned at Yoga-Vidya and instruct the Rishikesh-sequence.
We can have relaxed or demanding lessons, according to Your wishes.
Free donations are welcome
 GREEN SMOOTHIES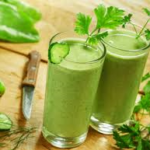 … exist of 50% of fresh fruit, 50% of green leaves and some water. They are mixed to a tasty and vital drink. Green leaves have great health advantages.
We prepare them for you freshly. If you want, you can also collect the greens by yourself.
Just bring them, we'll do the rest.
Price: 2.50 €
