Horseback hiking
The Ziegelhof-farm is a registered horseback riding station and we are happy to have you here as our guests.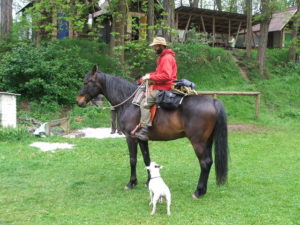 Up to 5 horses can stay in our open stable. A separate box also exists. The saddles can be kept in a saddle chamber.
The rider can choose between sleeping in his own tent, in the hayloft or in a wooden hut. You can use our  fully equipped guest kitchen with heatable eatingroom, all the sanitary Arrangements as well as the fireplace. Breakfast after arrangement is possibly.
Please ask us if you need additional maps of the area or any tipps on how to continue.